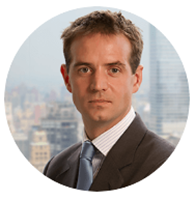 Guy Anderson
Portfolio Manager
Targeting UK companies outside the FTSE 100, The Mercantile Investment Trust has a long heritage of successfully providing capital growth – and income. What's the strategy behind its success?
At a time when uncertainty clouds the short-term equity market outlook, why should investors consider mid and small caps?
More room for growth
The Mercantile's portfolio of medium and smaller-sized companies offers investors both diversity and access to exciting growth. Operating in new, growing or disruptive markets, these firms mightn't be household names today, but could be future FTSE 100 members.
 Mercantile lead investment manager Guy Anderson explains that 'their potential to gain market share far outstrips larger companies who are, by necessity, more limited by the underlying growth of the markets in which they're operating because they can't just grow and grow and grow.' Of course, not every rough diamond will make the cut, but over the last 60 years, mid- and small-cap stocks have collectively outperformed the overall market in two out of every three years.
Advantage investment trusts
When market sentiment is uncertain, investment trusts offer shareholders a number of advantages over vehicles such as unit trusts and open-ended investment companies. Anderson believes that investment trusts are the perfect vehicle for mid- and small-cap investing. 'In contrast to OEICs, investment trusts' closed-end structure helps investors withstand market volatility and valuation fluctuations', he explains. 'Investors in Mercantile are investing in a permanent capital vehicle.'
The investment trust structure allows Anderson to make genuinely long-term investment decisions. He knows he'll never be forced to sell assets to raise cash in a stock market decline — such we saw when the coronavirus crisis hit UK markets in March — whereas OEIC managers may be forced to dispose of assets. 'This is really important in the mid- and small-cap space because I'm not buying a business that I happen to think is going to do well in the next quarter, I'm thinking about how it will develop over the next three, or five years.'
Keeping it in reserve
While Mercantile's primary objective is long-term capital growth, a further investment trust advantage is that the trust's board can accrue reserves over time so it can smooth the dividend payout — and keep paying it in leaner times.'We've got over a year's worth of dividend in reserve, so if we received no income at all from the portfolio this year, we could in theory sustain the dividend for another year without any cut, which is a pretty strong position', explains Anderson.
The trust aims to growth the dividend at least in line with inflation. Its record proves its success: over the last 30 years, its dividend has grown at around 8.5% per annum, and was not cut even following the 2008 financial crisis. 'Yield may not be guaranteed', says Anderson, 'but it's more certain than in an OEIC, especially in a year when income for both the FTSE 100 and the mid- and small-cap market could end up down by as much as 50%.'
Investing in Britain
As well as providing welcome returns to shareholders, one of the purposes of equity markets is to provide companies with capital. Thus, equity investors like Mercantile have played a vital role in supporting businesses through the lockdown period when they have zero revenue, yet heavy cost bases. 'Those businesses have needed equity injections in order to survive — and ideally position themselves so they can flourish in the future. It's actually a good reminder of what we're really for.'
With around £2 billion in assets, Mercantile is a significant investor in the small-to-medium sector. The trust bought around a fifth of its portfolio at IPO, although it engages with potential acquisitions up to two years before they go public. 'We have extensive due diligence, we visit the companies' operating sites and meet their management multiple times. We really get to understand the business', says Anderson, who has a passion for discovering developing firms. 'I want to invest in a business with solid fundamentals and a strong competitive positioning, where there is an exciting growth outlook. The business should generate decent margins and crucially generate a strong return on capital with the ability to reinvest to drive further growth.'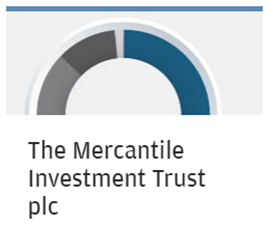 Find out more about the Mercantile Investment Trust plc
This trust targets UK companies outside the FTSE 100 that have significant room for growth.
To buy this trust login to your EQi account
Select Mercantile Investment Trust - GB00BF4JDH58
More about investment trusts here